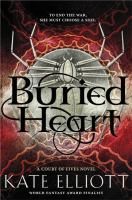 Buried heart : a Court of Fives novel / Kate Elliott.
Author:
Elliott, Kate, 1958- author.
Imprint:
2017
Note:
"Jessamy is at the crux of a revolution forged by the Commoner class hoping to overthrow their longtime Patron overlords, but when enemies from foreign lands attack the kingdom, she must find a way to defend their home and all the people she loves, Efean and Saroese alike"-- Provided by publisher.

This item has been checked out 0 time(s)
and currently has 0 hold request(s).