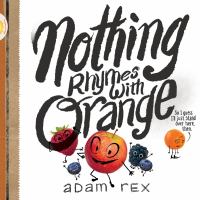 Nothing rhymes with orange / Adam Rex.
Author:
Rex, Adam, author, illustrator.
Note:
All the fruits gather together and enjoy a rhyming party, but poor Orange feels left out because he does not rhyme with anything--or does he?
Audience:
Ages 7-11.
Audience:
Grades 2-6.
Audience:
570L Lexile.

This item has been checked out 4 time(s)
and currently has 0 hold request(s).