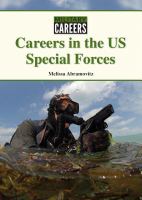 Careers in the US Special Forces / by Melissa Abramovitz.
Author:
Abramovitz, Melissa, 1954-
Imprint:
2016
Note:
Army Green Berets -- Army Nightstalkers -- Navy SEALs -- Navy special warfare boat operators -- Marine Corps Force Recon -- Marine Corps scout snipers -- Air Force pararescue -- Air Force combat control -- Coast Guard maritime safety and security team.
This item has been checked out 0 time(s)
and currently has 0 hold request(s).