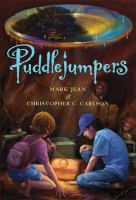 Puddlejumpers / Mark Jean & Christopher C. Carlson.
Author:
Jean, Mark, 1952- author.
Note:
Kidnapped as a baby by Puddlejumpers, little people who live in a world below puddles, twelve-year-old Ernie must find courage to save the Puddlejumpers by leading them into battle against their mortal enemies, the Troggs.

This item has been checked out 0 time(s)
and currently has 0 hold request(s).